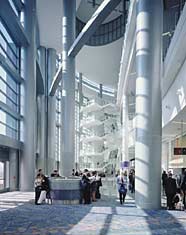 The convention includes a comprehensive education program running March 6-9, with a featured speaker (as pictured below) plus over 40 seminars on everything from business management to alternative medicine (schedule below) each day.  Special Events are also scheduled for each day.  2,400 exhibit booths open March 8-10.  To ease the viewing experience, the showroom floor has been organized into seven different product categories with 12 separate pavilions.
Manufacturers, retailers or media interested in participating in Expo West 2002 should contact the Expo Sales Department at 303/939-8440 or the Registration Department at (866) 458-4935 or e-mail them at ExpoReg@NewHope.com.
For more expos by New Hope visit http://www.naturalproductsexpo.com/
---
Thursday, March 6th:

Organic Benefit Luncheon


6th Annual "Meet & Greet"

11:30am to 1:30pm




Anaheim Convention Center

Presented by the Organic Farming Research Foundation in cooperation with New Hope Natural Media
Once again, top LA chefs Donna Prizgintas, Chris Blobaum and friends will prepare a fabulous all-organic buffet feast. Come network with organic industry leaders over a sumptuous gourmet meal. It's an Expo tradition you won't want to miss!

Advance tickets are available from New Hope Natural Media or OFRF at www.ofrf.org. $40 per person or $300 for a table of 8.
---

Fresh Ideas Organic Marketplace
12:30 pm - 5:30 pm

Don't miss the organic event of the year at the tent outside the Marriott. Meet local growers while sampling some of the best organic produce, dairy, beverages and more. Badge is required for entry.
---

International Welcome Reception
5:30 pm-7:30 pm Anaheim Hilton
If your interest is in the international business community, then plan to attend the best networking opportunity at the show. Light hors d'oeuvres and a cash bar will be available to our attendees
---
Organic Trade Association's (OTA)
Organic Industry Reception
Co-host- New Hope Natural Media
7:00 pm –10:00 pm Anaheim Convention Center Ballroom
Celebrate the organic industry and support OTA's annual fund campaign, "OTA 2003". Proceeds from OTA 2003 fund OTA's public policy and media advocacy work on behalf of the organic industry. The Organic Industry Reception is a great place to entertain clients or just have fun with industry colleagues. Enjoy an organic dinner buffet served with a variety or organic wines, ales, and other beverages. Vegetarian and vegan options will be available.
Buy your tickets in advance and guarantee a spot at this popular event. Price: Through Feb. 14, $55 OTA members/ OTA 2003 investors, $80 others. After Feb. 14, $65 OTA members/OTA 2003 investors, $90 others. Contact Laura Stravino (lstravino@ota.com; 413-774-7511, Ext.23).
---
Friday, March 7th:
Show Floor Hours
10:00 a.m. – 6:00 p.m.
---
The Rasta Prom
8:00pm in the Marriott Tent
Presented by White Wave and New Hope Natural Media
The Rasta Prom is back by popular demand! This year's party will feature reggae master Ziggy Marley. So come relax, visit with new friends and you'll practically feel the ocean breezes.
---
Saturday March 8th:
Keynote
9:00 a.m. - 10:00 a.m.
Room 204


 

Join Ms. Brockovich as she shares her insights into toxic waste and the essential role that politics and business play in environmental issues and the future of our planet. Also benefit from wisdom gained through a series of personal challenges, including her "shorthand guide to winning life's struggles" and "inner-strength workout".
Ms. Brockovich will be available for autographs and booksignings immediately following her keynote presentation.
Erin Brockovich , Director, Environmental Research, Masry and Vititoe ; Motivational Author/Speaker, TV Host
---
Show Floor Hours
10:00 a.m. – 6:00 p.m.


---
Club Row Dance Party
9:00 pm - 1:00 am Anaheim Marriott Ballrooms
Come party the night away with your fellow attendees. Enjoy three different rooms, each with it's own unique musical style. There's a hip rock-and-roll band, a beat-infused dance hall complete with a deejay, and a karaoke room, where you can belt out your favorite tunes. Hotel shuttle buses will run until 1:00 a.m.

---
Sunday March 9th:
Show Floor Hours
10:00 a.m. - 4:00 p.m.